Fitness Kit Inventors
Fitness fans throughout the world are now getting their sporty inventions off the ground with the help of other fitness addicts. Who needs Dragon's Den when you've got crowdfunding?
The First Muslim Fitness DVD
The Hijabi Drill sergeant Zainab and her friend Nadine created a workout video for women who follow Islam. They said that all you see in your average workout video is skin, skin and more skin. So they decided to create a workout DVD for women who like to stay covered. The women needed $15,000 to launch their Nadoona Extreme Fitness DVD and the Launch Good crowdfunders handed over $18,000 to help them achieve their goal.
Helmet Speakers For Cyclists
Lou Tortola came up with his invention when – you've guessed it – he was on a long bike ride. "I love a good soundtrack while I'm putting in miles in the saddle, but I don't like how headphones and ear buds block out ambient sounds of nature, traffic and other cyclists," says Lou. "I thought cyclists deserved a better alternative. So I made one."  The result is the AudioPlux speaker that attaches to your helmet. The speakers fix to the jack of any mp3 player and attach to your helmet with uber-strong Velcro. Lou, who has just launched it on kickstarter, said it's a lot like listening to the stereo while riding in a convertible with the top down.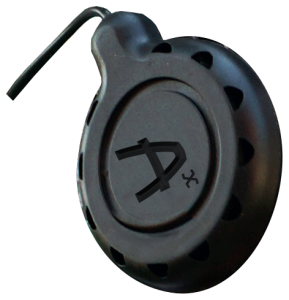 A Moveable Cable Machine
Ex-military guys Kareem Smith and Andrei Carnes wanted to create a cable machine that you can use in your own front room. The result is BodyFly Fitness. "We want to provide an effective, full body workout system that isn't limited by how much space you have or where you are," said co-founder Andrei Carnes. The prototype was used at the 2013 San Diego National Physique Committee Competition Physique class. They are now using Kickstarter to help them their invention to a wider market.  Yep, we don't think it will be long before we see these under everyone's Christmas tree.
 
The Luxe Sportswear Line
PT Charli Cohen has wowed the critics with her line of technical sportswear and now with the help of the Kickstarter crowd she is planning to launch her own pop-up store. The ex-Kingston University fashion student has blended her knowledge of design with her knowledge of ergonomics and how it needs to work in the gym.  People who get who want to support Charli's pop-up store are rewarded with items from the collection.
Crowdfunding
+ You get the funds you need without having to have awkward conversations with your bank manager or parents.
– It isolates you from the people who can really help you, like professional investors, says Ari Zoldan at inc.com http://www.inc.com/ari-zoldan/3-reasons-not-to-crowdfund.html