52 Fun Ways To Burn Calories In Singapore (Part 1)
Think that there's nothing to do in Singapore? Then think again… We've found 52 great ways to get into shape in The Lion City 
1.       Zipline
Adrenalin addicts will love Megazip on Sentosa. Hook yourself up to this outdoor adventure playground and zipline between the trees. You can also use its high ropes course too. Priced from $50.
2.       Bubble Football
For a five-aside football game with a difference book a bubble football session. You get to play football from inside a zorbing ball. Priced $199 for 10 people. Includes bubble balls, goal posts, a referee and a ball. See www.bubblesports.sg
3.       Stand Up Paddling (SUP)
Give your legs and core a workout as you tour the Singapore coast line on an SUP. Lesson priced from $60. Visit www.supschool.com.sg
4.       Mountain biking

Take a bumboat to Pulau Ubin, hire a bike and go for a ride around the island that hasn't changed since the 1960s. If you have your own bike, you can take it with you and hit some of the best mountain bikes trails in Singapore
5.       Hiking
Singapore might be famed for its skyscrapers, but you can still find pockets of jungle in the city where you can go for a hike. Grab your backpack and enjoy the 11km walk around MacRitchie Reservoir. See www.yoursingapore.com for more details.
6 Dragon Boating
It may be famed for being just as much about fun as fitness, but don't be fooled – dragon boating is a serious workout. After practising your drills and doing numerous sprints your legs and arms are sure to be quivering when you get out of the boat. American Dragons offer a trial class for $10 .
7 Sailing
Set sail near our island paradise – book a beginners sailing course at Changi Sailing Club. A four-day dingy sailing course costs $524.30 for non-members.
8 Rock climbing
Give your arms and legs a workout – sign up for Kinetics Climbing's 101 class. They will show you the techniques you need to ascend the wall, and you get to try bouldering as well.
9.       Muay Thai
For a workout that will really help you burn through the calories, try your hand at Muay Thai. The Thai form of kickboxing will help you kick and punch your way to fitness. And if you've had a tough day at the office, a pad work session proves to be a great stress reliever too. Book a free trial class at www.evolve-mma.com
10 Horse riding
Saddle up at the Singapore Turf Club and enjoy a beginner's horse-riding course. It will help you work your core, arms and glutes as you maintain your posture in the saddle. Semi-private lessons, $120 each. See www.stc-ridingcentre.com
11.   Anti-Gravity Aerial Yoga
Leave the mat behind and practise your workout while dangling from the ceiling in a material harness. It will give you chance to work your core and achieve moves you never thought possible. Three Class Experience Pass, $49. See www.upsidemotion.com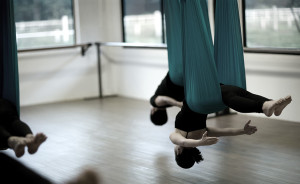 12.   Golf
Leave the skyscrapers behind and take in some of Singapore's spectacular scenery when you book a beginner's golf lesson with Ultimate Golf Lessons. While the instructor teaches you about your grip, stance and analyses your swing, you will be improving your strength and flexibility. Pay $250 for 10 sessions.
13.   Running
Hit the bricks to work your legs and core. Go for a run around the Marina or along the East Coast or if you want to get more serious join the Mizuno F1 Runners who will help train you for 10km, 21km and 42km.
14.   Wakeboarding
Tone your thighs and upper bag as you ride the waves with the Wake Pirates at Sembawang. The team will take you out onto the water from sunrise to sunset. Priced $90 per hour. 

15 Kayaking 
Take a different view of our fabulous city – look at it from the water. The Singapore Canoe Federation offer three hour tours from Kallang Water Sports Centre to the Singapore Flyer. Priced $40. 

16 Pole Dancing
This triple-threat workout features strength training, endurance and flexibility. Ecole De Pole where they will teach you a simple routine and show you a few spins. Priced $40 for three classes. Visit Ecole De Pole
17.   Tai Chi
Build muscle strength and increase flexibility with a free Tai Chi trial session at  Fitness First. This mind, body and soul workout promises to lower your stress levels and boost energy. Now who doesn't like the sound of that?
18.   Trampolining
Kickstart your heart with a trampolining session at Amped. Bounce your way around the trampoline-filled room and feel like a big kid again. Priced $12 per hour.
19.   Baseball Practise
Step into the automated batting cages at Home Run Basketball and enjoy a great workout. Not only it boost your upper back, lats and biceps, but it's a great stress reliever too. Priced from $20 for five tokens. 

20.   Scuba Diving
Divers come from all over the world to take a peek at the sea life on our doorstep. Plunge into the deep with www.sunnycove.com.sg. The PADI team offer trial sessions for $90. If you enjoy it, you can then sign up for a PADI Open Water course and join them on trips to Malaysia, Thailand and Bali.
21.   Netball
Looking for a fun way to keep fit? Sign up for the Net4all Beginner Course, priced $120 for 12 sessions. A session on the court increases your agility and stamina levels as you improve your footwork and take-off speed. Visit www.netball.org.sg
22 Badminton
Improve your reaction time by testing your skills on the badminton court. You'll work out your upper back and arms as you attempt to hit those volleys. Log onto Badminton Lessons With Jimmy to book a two-hour group session.
23 Aquaspin
Keep your cool while you work up a sweat – join an Aquaspin class in Singapore. Just climb aboard the underwater bike for a low impact workout that tests your thighs and glutes. Trial session is priced $25. See www.aquaspin.sg
24.   Boxing
If you want to wave goodbye to those bingo wings, this is where you need to do it. Singapore gym www.vandaboxing.com offer a free trial class where they let you put on the gloves and try a few moves. Think it's not for girls? Read about expat Kerriann who decided to step into the ring and raise money for a children's charity
25.   Capoeira
Dance, music and martial art moves blend together to create capoeira. This Brazilian martial art is like breakdancing with attitude. The handstands help you boost your strength and the explosive moves help you increase your speed.Bantus Capoeira Singapore near Clarke Quay offer a free trial session.